Economic News
China's Manufacturing Activity Contracted For Second Consecutive Month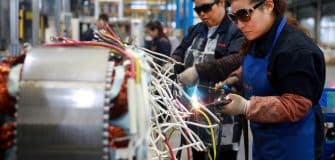 On Thursday, China said that its manufacturing activity has shrunk for the second consecutive month in January. This is a sign that the second largest economy in the world is going through a slump amidst an ongoing trade war with the U.S. as well as domestic headwinds.
According to the Chinese National Bureau of Statistics, the official manufacturing PMI or Purchasing Managers' Index for the month of January was 49.5. This is comparatively higher than the 49.3 predicted by analysts in a Reuter's poll as well as the 49.4 reported in December when the country's manufacturing PMI fell for the first time since July 2016. The PMI is used widely as an indicator as it surveys the business in a specific industry related to its operating environment. If the reading is above 50, it indicates expansion in the sector compared to the previous month, and a reading below 50 indicates contraction.
Interestingly, China' services PMI for the month of January came to 54.7, which is better than the 53.8 reported in December as per official data reports. The services sector makes up more than half of the Chinese economy. It played a huge role in cushioning the impact of the declining manufacturing industry for the past two months. Even with the PMI numbers being better than what was predicted, economics state that the Chinese economy is weakening. Although the PMI has not weakened further in January, the economy has still lost its momentum since the beginning of 2019 according to Marcel Thieliant, a senior economist at Capital Economics.
The PMI data along with the GDP numbers confirm fears about China's slowing economy towards the end of 2018. This raised fears about the depth of the economic troubles and also started rumors about whether Beijing will be stepping up its recent policy stimulus measures according to the economists at HIS Markit
Global investors are keeping a lookout for different economic data on China for any sign of damage caused by the trade war between Washington and Beijing. The world's largest two economies are meeting in Washington for high-level talks to solve their trade differences. The trade talks conflict has come at a time when China is already experiencing a slow down after three decades of fast-paced growth.
The announcement on Thursday gave an early insight into the business condition in China after many U.S. companies warned that sales would most probably slow down in 2019.