Cryptocurrency
Polygon Consolidating Near 200 DMA: Will the Matic Price Cross 200 DMA?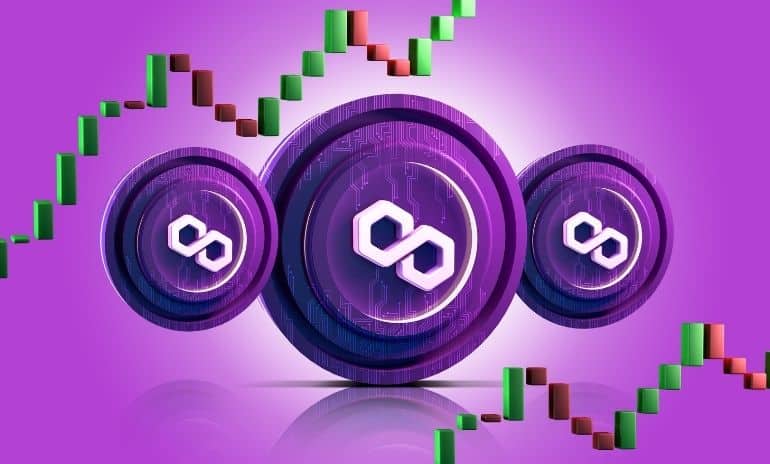 MATIC laid the foundation for Ethereum scaling and development. Post presenting the Polygon SDK, a flexible framework that supports multiple applications, indirectly helped Ethereum become a more robust blockchain network. Interestingly, MATIC was renamed Polygon to provide a different perspective about its offered tools.
Polygon can also be identified as a layer 2 scaling solution backed by crypto gains Binance and Coinbase. Resolving the scalability limitations of cryptocurrencies would ideally transform them into a future tokens. Polygon claims it can do up to 65,000 transactions every second and has a block confirmation time of just two minutes with its state-of-the-art development work.
Polygon (MATIC) now ranks at 16th position with a net market capitalization of $12,810,173,007, comprising 7,758,492,081 MATIC tokens. Its recently launched Plasma Upgrade has been prepared to tackle the issue raised by the Proof of Stake shift of the Ethereum blockchain.
MATIC token has shown some buying strength in March 2022 after its record sell-off that destroyed 55% of its market value in less than two months. Consistent attempts to overcome the 200 DMA resistance bore no results. In April 2022, with the beginning of a fresh financial year and clear legal terminologies for the income generated from crypto investments, there would be fresh rallies taking place for Polygon. Check out MATIC price prediction to know about the coin's performance in the coming years.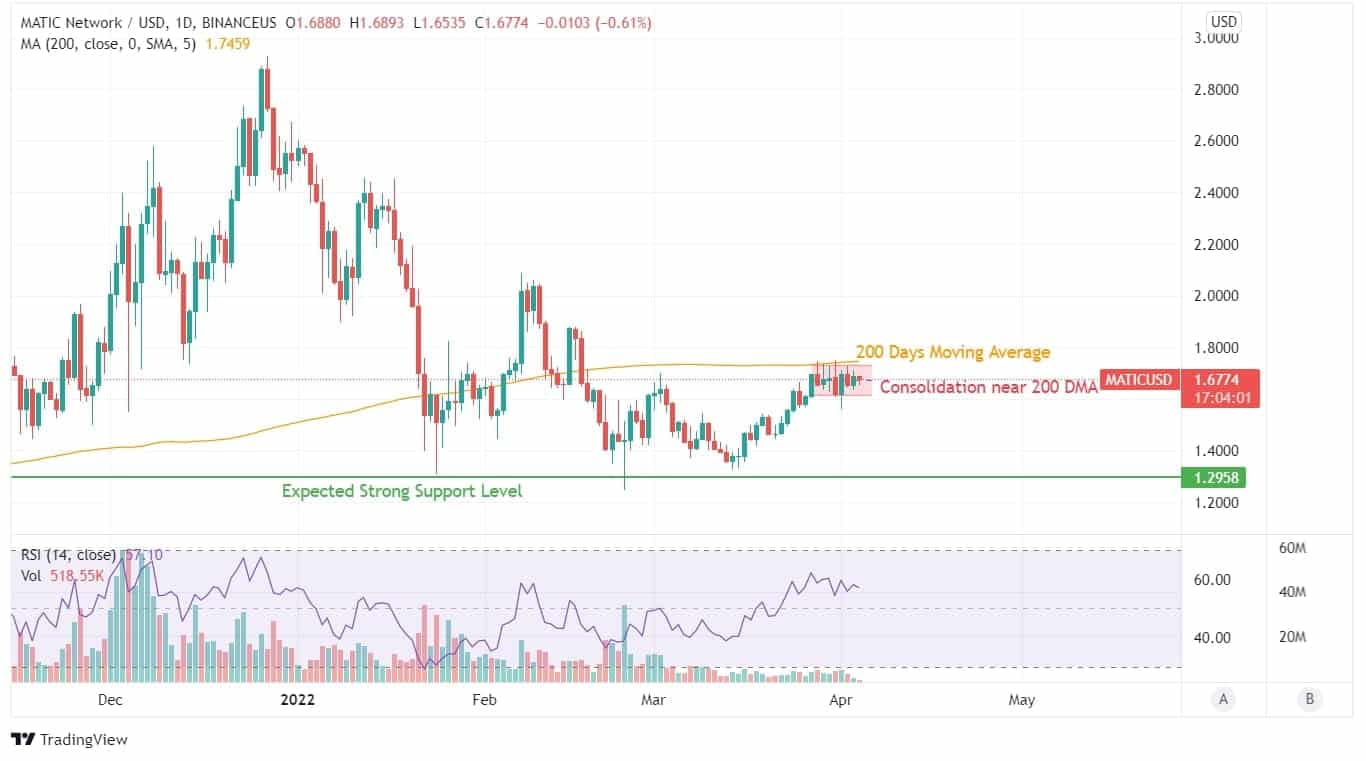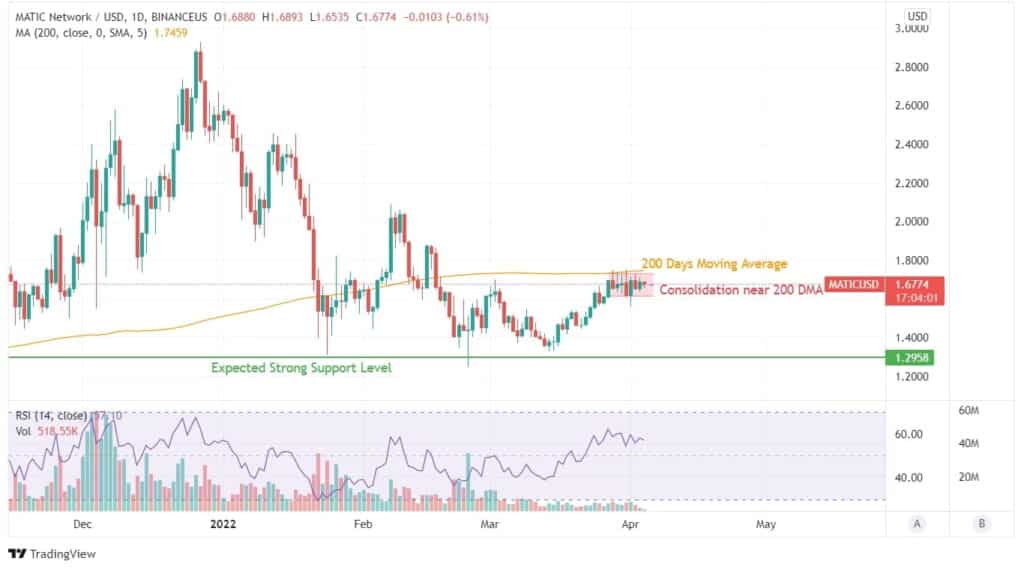 Of the major ranking cryptocurrencies, the MATIC token has remained one of the stronger ones, with a profiteering trend that resulted in declining values. MATIC now reaches a step closer to retracement. Currently, its 200 DMA curve is active at around $1.80, but unlike other tokens, this curve is still on the rise, taking cues from the previous days of trading.
In such a situation, overcoming this level would directly result in progressive price action. The consolidation happening near the 200 DMA curve indicates the resistive strength of this level. While there remains a strong probability of this rally failing, MATIC can also overcome the levels at any given buying spree.
Under the condition that the 200 DMA level is breached on a daily chart, buyers would flood towards this crypto token resulting in a sudden upside movement for the MATIC token.
Compared to previous highs and market scenarios, Polygon can easily scale past $5, but a higher value of this cryptocurrency should not be expected. Since the goal of MATIC is to improve scalability, a higher token value would adversely affect this goal. RSI has once again moved upwards to a level that resembles the sentiment near its all-time high value of $2.92.
We can witness the recent retracements backed by decreased selling of MATIC tokens. On the upside, $2 would become another resistance level after surpassing the 200 DMA curve.