Introduction
InvestXE is a top online trading platform that lets you trade different instruments, including soft commodities, precious metals, cryptocurrency, energy commodities, and currency options. The company caters to both self-guided and highly-active traders and investors. InvestXE has started making a splash already in the online trading world. It is unique as it not only offers many financial products to trade but access to many different services and educational resources to hone your trading skills, regardless of whether you are a newbie or an experienced trader. All the trading platforms that are offered by InvestXE are sophisticated yet simple to use.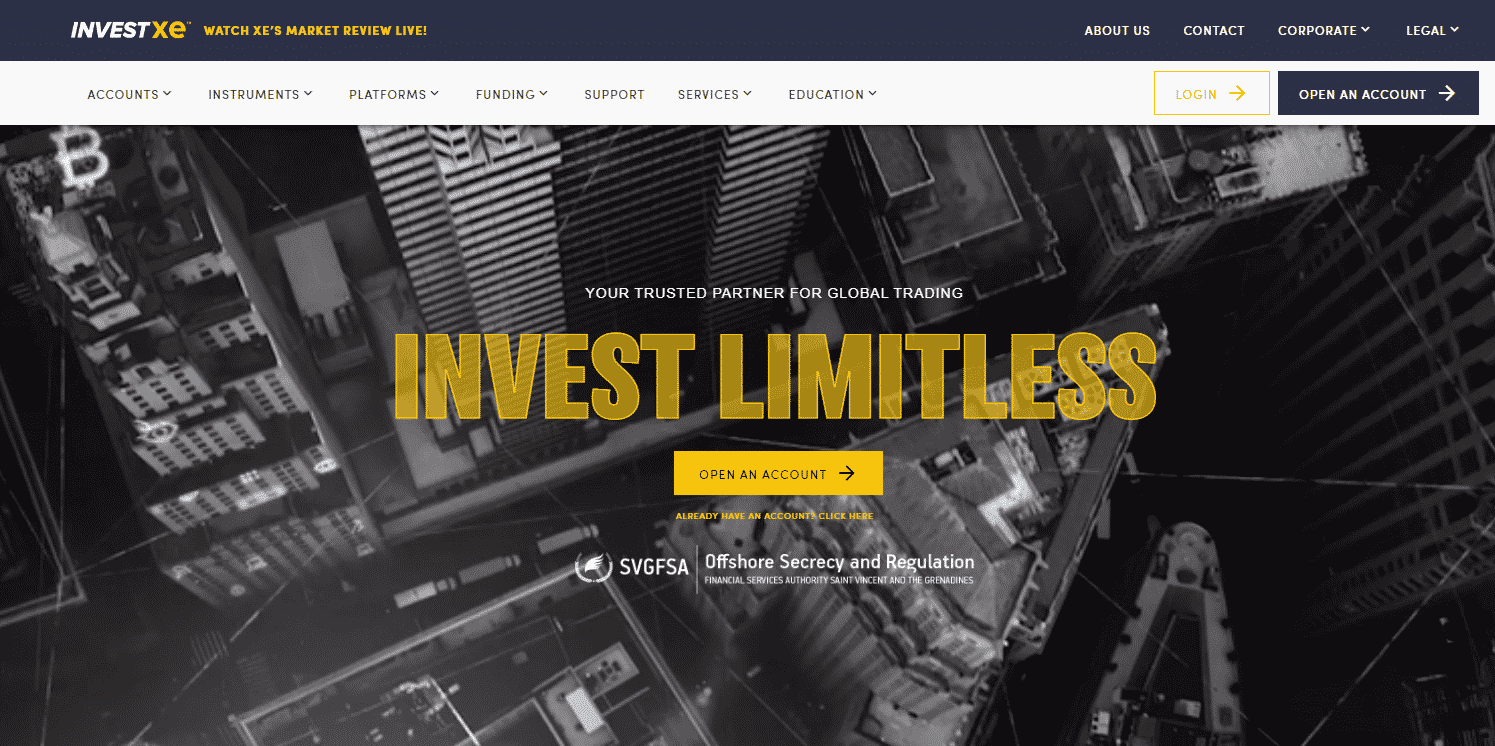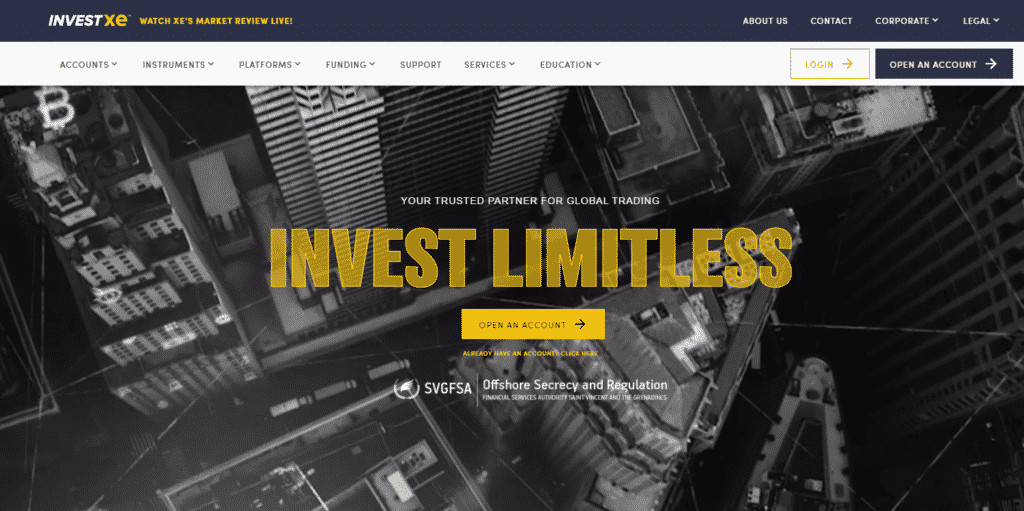 Accounts
InvestXE offers many options when it comes to accounts, from primary accounts to AutoXE accounts. Every type of account at InvestXE comes with different tiers. You can select one according to your trading experience level.
1.Primary Accounts
The most basic types of accounts at InvestXE lets you trade more than 16000 assets under five different instruments. This account allows you to trade with ease using its intuitive tools and top-class trading systems. Primary Accounts are divided into three tiers:
Standard Account: If you are starting your journey in the online trading world, you can go for the Standard Account at InvestXE with a minimum funding of BTC equal to $500. You can get to know the markets using this account. It also lets you trade multiple assets. Another perk that you get with this account is that the top analysts can guide you on the best trading techniques so that you make smart decisions and earn profits.
Progression Account: This beginner-friendly account at InvestXE lets you learn as you trade. With this account, you get the tools that you need to trade professionally. By educating yourself, you can make lucrative trades by trading multiple assets. This account also gives you access to its MarketPro 1.0 platform and membership to its webinar library. Moreover, you can also get 90 days' access to its elite Trading School. And you will get all this by depositing BTC equal to a value of $5000.
Advanced Account: The best type of Primary Account is the Advanced Account that is available at a minimum deposit of BTC equal to a value of $25000. Except for all the perks that are available with a Progression Account, you also get 24/7 support. The InvestXE team can guide you on the trades you make and 180 days' access to its Trading School.
2.Professional Accounts
If you are an intermediate level or highly advanced trader, then a Professional Account is the best for you. The Professional Account at InvestXE comes with many trading opportunities, tools, customized services, bespoke feedback and advice, and more. It is available in two tiers:
Gold Account: A Gold Account at InvestXE offers you access to its extensive webinar library and its flagship MarketPro 1.0 platform. It also tells traders about profitable trading opportunities, gives them 24/7 support, 300:1 leverage, personalized sessions, direct line to their trading room, and more. Traders can get all this at minimum funding of BTC equal to a value of $75000.
Platinum Account: If you are an experienced, hardcore trader, then the InvestXE Platinum account is the perfect account for you. It offers all that you need to become a top-class trader included dedicated support, various resources, and remarkable tools. Besides the various perks that are provided by the Gold Account of InvestXE, you also get access to its VIP rooms, and the best possible spreads with this account. Once you make minimum funding of BTC of value equal to $1,50,000, you can access this account and get all the features it offers.
3. AutoXE Accounts
You can try your hand at automated trading as well with InvestXE. You can trade with maximum efficiency using the AutoXE account of InvestXE regardless of the market you want to trade-in. To use this account, you have to link your brokerage account to this account. Then you can deposit funds in the brokerage account, select the trading strategy, and then leave everything on the trading bots. The elite analysts of InvestXE can choose, evaluate, and then rank the best trading strategies for you. Even if you don't know much about trading, you can trade successfully using this InvestXE account.
Range of Offerings
InvestXE offers a wide range of instrument tradable on its platform. From soft commodities to precious metals and all in between, you can trade everything with InvestXE. InvestXE platform uses complex strategies and algorithms to carry out successful trades accurately. Let us now have a look at the instruments tradable with InvestXE: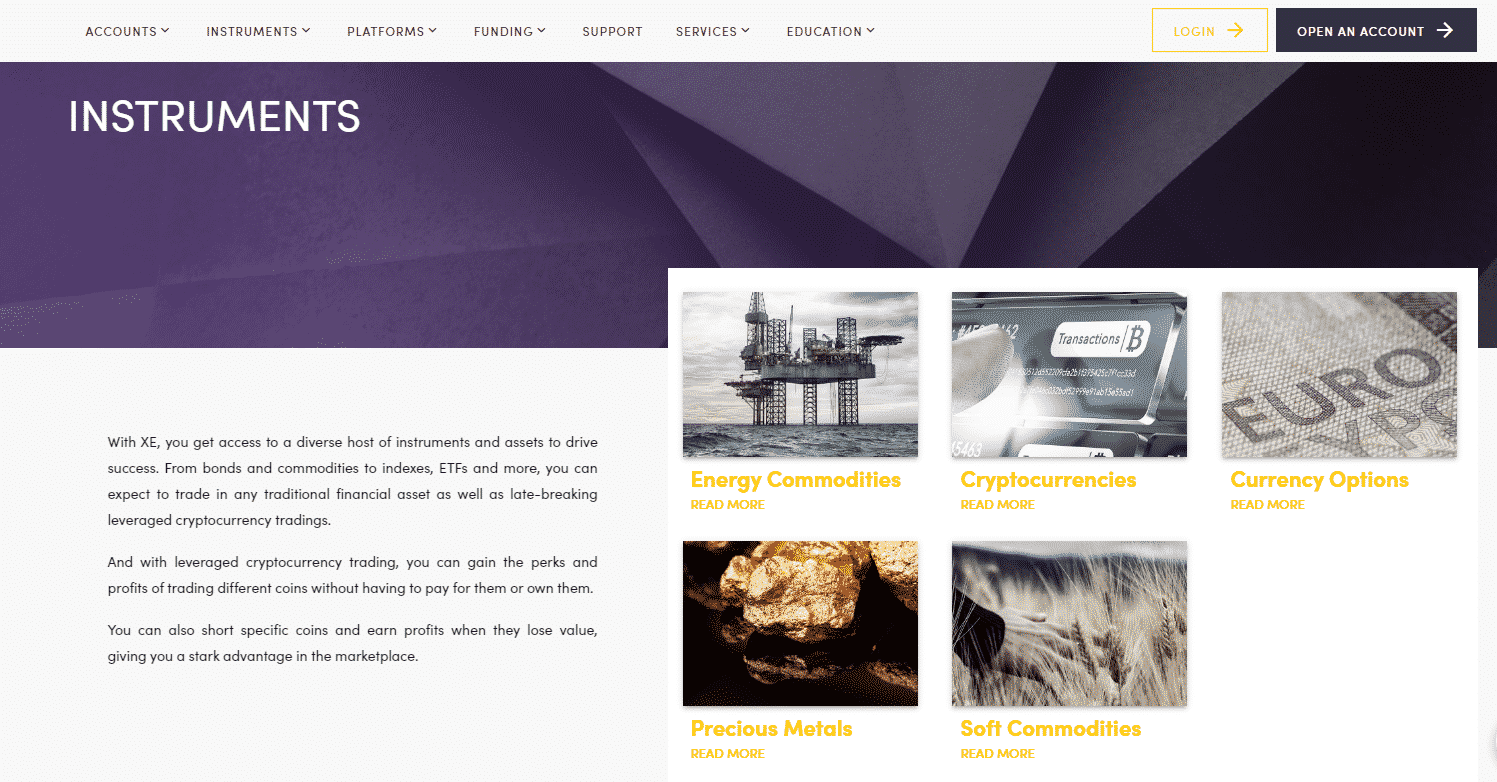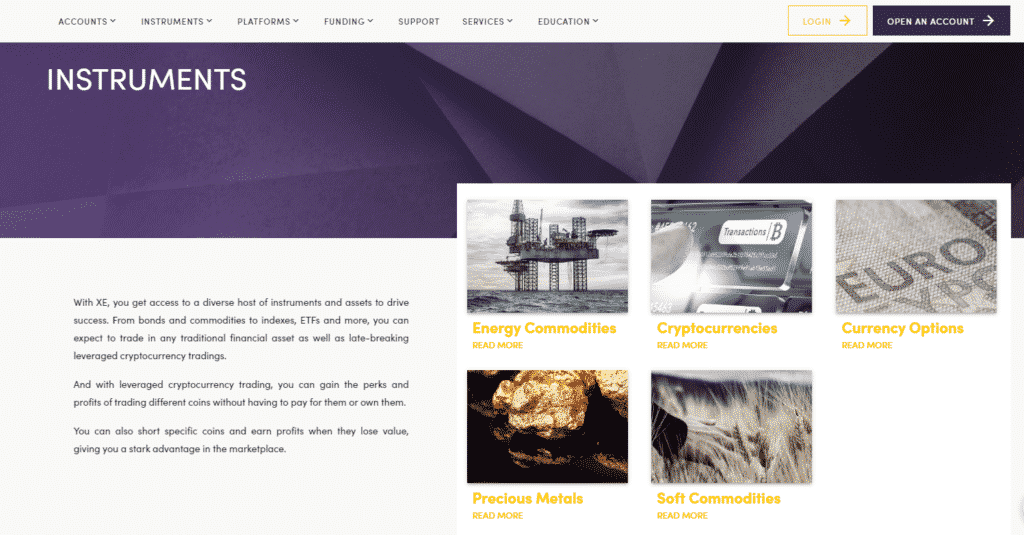 1. Precious Metals: Since the value of precious metals keeps on rising always, they are a well-liked tradable option for decades. With InvestXE, people can trade-in precious metals like silver, platinum, palladium, and gold. The platform of InvestXE allows you to trade precious metals quickly and successfully; if you want to diversify your portfolio, trade precious metals.
2. Soft Commodities: The high demand for soft commodities make trading profitable and worthy in this market. InvestXE platform offers risk-free trading of soft commodities like sugar, cotton, cocoa, soybeans, and more and investing opportunities for every trader. You can short soft commodities even during downtrends to make profits. Trading soft commodities with InvestXE is low-risk since the platform is secure and trustworthy.
3. Cryptocurrency: Cryptocurrency trading has taken the whole world by storm, and hence more and more people are looking to try their hand at it. It has become the fastest-growing and most active instrument to trade. Don't possess cryptos? Don't worry. InvestXE lets you trade them with its leveraging services. It has high-tech and sophisticated tools created to choose the best trading trends in the crypto market. Make high profits by spotting opportunities before other traders.
4. Currency Options: Currency Options are the financial contracts that give the right and not the obligation to the buyer or seller to buy/sell a specific currency at a particular exchange rate before or on a particular date. It attracts a lot of traders because of its infinite trading opportunities. The InvestXE platform offers you the education and resources to make winning trades when it comes to currency options. You get competitive prices for various currencies on this platform along with 24 hours available trading facility. You can access currency options at InvestXE using any device, including iOS, Android, PC, or tablet, and get 24/7 live chat support in case of any issues.
5. Energy Commodities: Whether you want to trade non-renewables like coals, gas, or oil or renewables like biomass, wind, or solar, InvestXE lets you trade them all. Top-class customer services, modern risk management tools, updated information, and expert help offered by InvestXE can help you get what you deserve by trading energy commodities.
Platforms
Once you open your account with InvestXE, you get an option to choose from its 5 different platforms. All of them can be used to trade different instruments and markets easily and efficiently.
1. Web Trader: The Web Trader platform of InvestXE has gathered many positive customer reviews due to its easiness of use and flexibility. It is especially beneficial for novice traders. It is created to educate beginners in the trading world so that they can quickly become active, professional traders. It is an excellent trading solution having a learning curve. If you are starting your trading journey with InvestXE, make an account and begin trading with its Web Trader platform. It will let you find out which assets are currently trending, see trading data for different assets, review the market trends, use multi-chart windows, compare assets, and get added security.
2. MarketPro 1.0: MarketPro 1.0 is InvestXE's flagship platform. It comes with endless and incredible trading opportunities, different financial markets, and technologies to make successful trades. Using this platform, you can evaluate the market in real-time, get every tool required for making successful trades, and stay on the top of the game. It comes with many free and paid features and functions. Users can get immediate access to the best strategists using this platform. With its copy trading feature, traders can copy the trades of top traders and use AI trading bots to trade for them.
3. iPhone Trading App: InvestXE iPhone Trading app is another remarkable platform. It makes it simple for traders to trade anytime and from anywhere. Traders get an option to trade over 16000 assets under different instrument classes. You can make lucrative trades with the iPhone Trading App of InvestXE while on the go.
4. Android Trading App: InvestXE's Android Trading app has a sleek and intuitive interface. The app lets you trade all the assets available on the InvestXE platform for trading. Those who are registered on InvestXE can get 24/7 customer support. The Android Trading App of InvestXE lets you keep track of all your trades other than offering the newest market trends and real-time market analysis.
5. Tablet Trading App: Looking to trade using the larger screen of your tablet on InvestXE? No problem, InvestXE has a Tablet Trading App for you. It will take a swipe of your finger only to start trading on this platform. This app can do a real-time market evaluation, gives you live notification of asset pricing, and offers outstanding customer support service 24/7.
Education
Luckily, the Education section of InvestXE is quite extensive. InvestXE website has an excellent education section and trading schools containing investing-related webinars, articles, courses, and more. They can not only help you understand trading in a better way but also make you well-versed with the various trading platforms it has. The education center of InvestXE is available to all its users based on the account they choose to go with.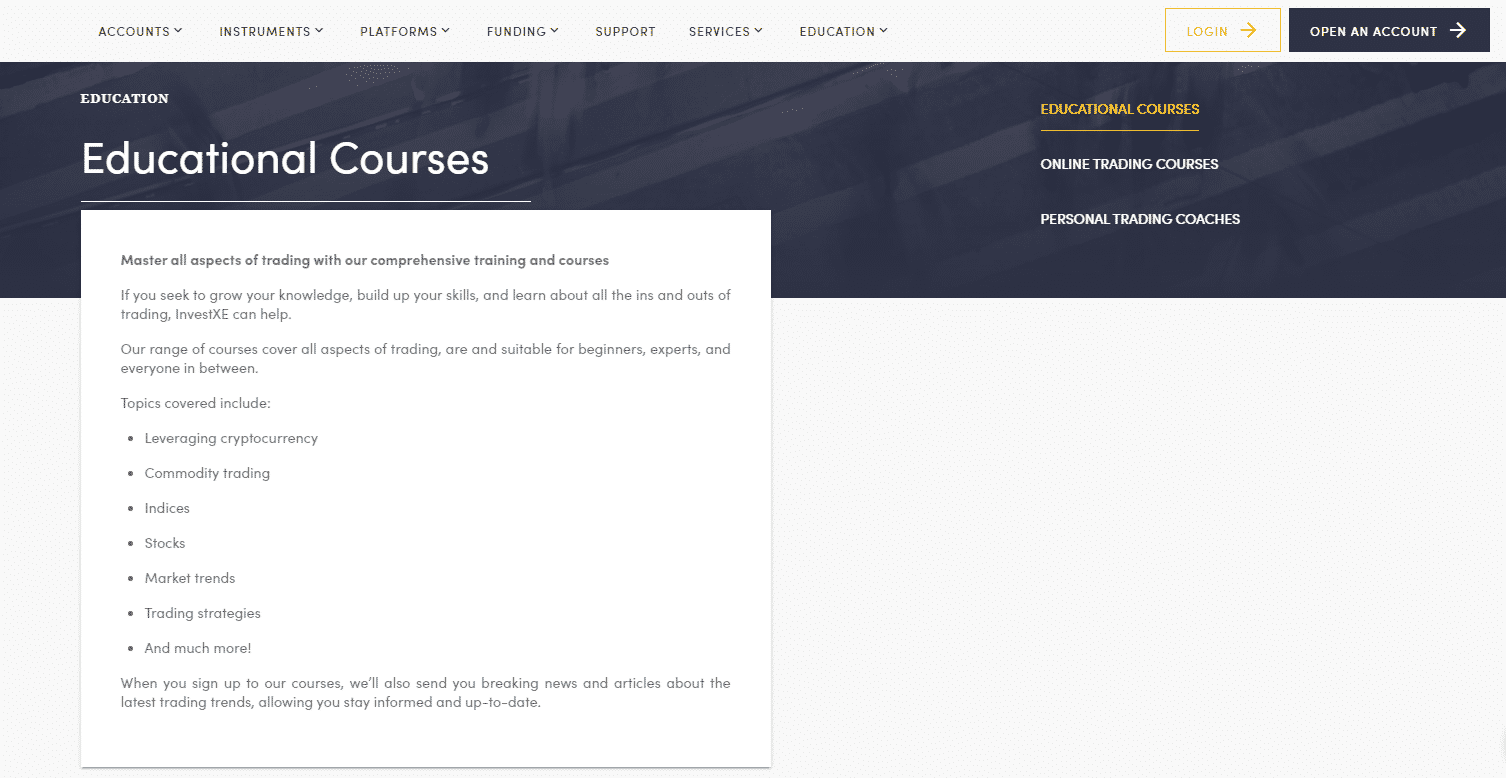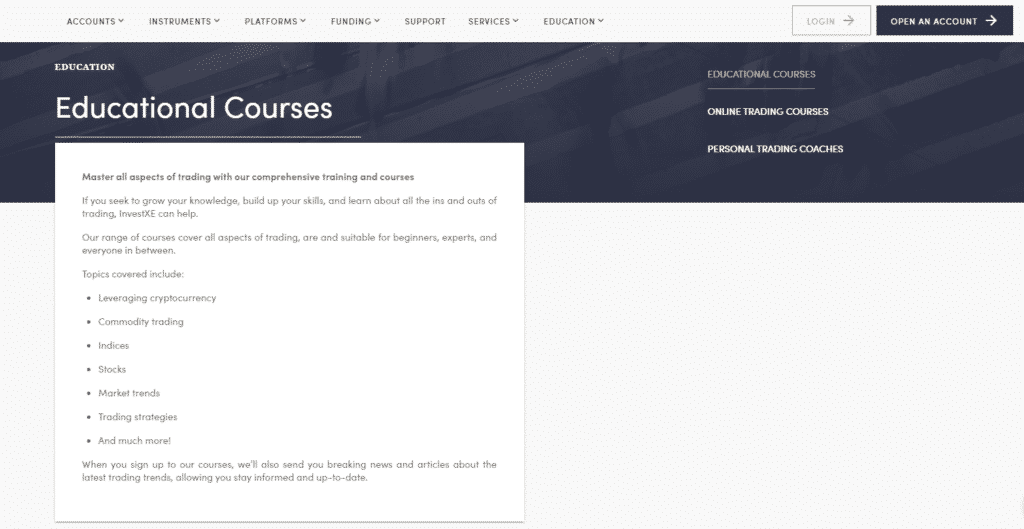 1. Educational Courses: You can master trading with InvestXE's comprehensive trading courses. Whether you want to boost your trading knowledge or build new skills, InvestXE has something for you. These courses are available for every level of trader. The topics covered in them include but aren't limited to leveraged cryptos, market trends, commodity trading, trading strategies, etc.
2. Online Trading Courses: What can be better than sitting at your place and learning to make money. InvestXE can be the right platform to do so. It helps you learn to trade using its online trading courses and then make money by trading efficiently. The courses can be taken up as and when you want. From impactful webinars to 1-click virtual learning courses, you get everything with these courses.
3. Personal Trading Coaches: A personal trading coach can offer individual mentorship to help develop your trading knowledge and skills. You can have an online session with them where you can request assistance, ask questions, and learn a lot. With these trading coaches, you can trade easily and wisely, knowing that someone is there to guide you towards success.
Services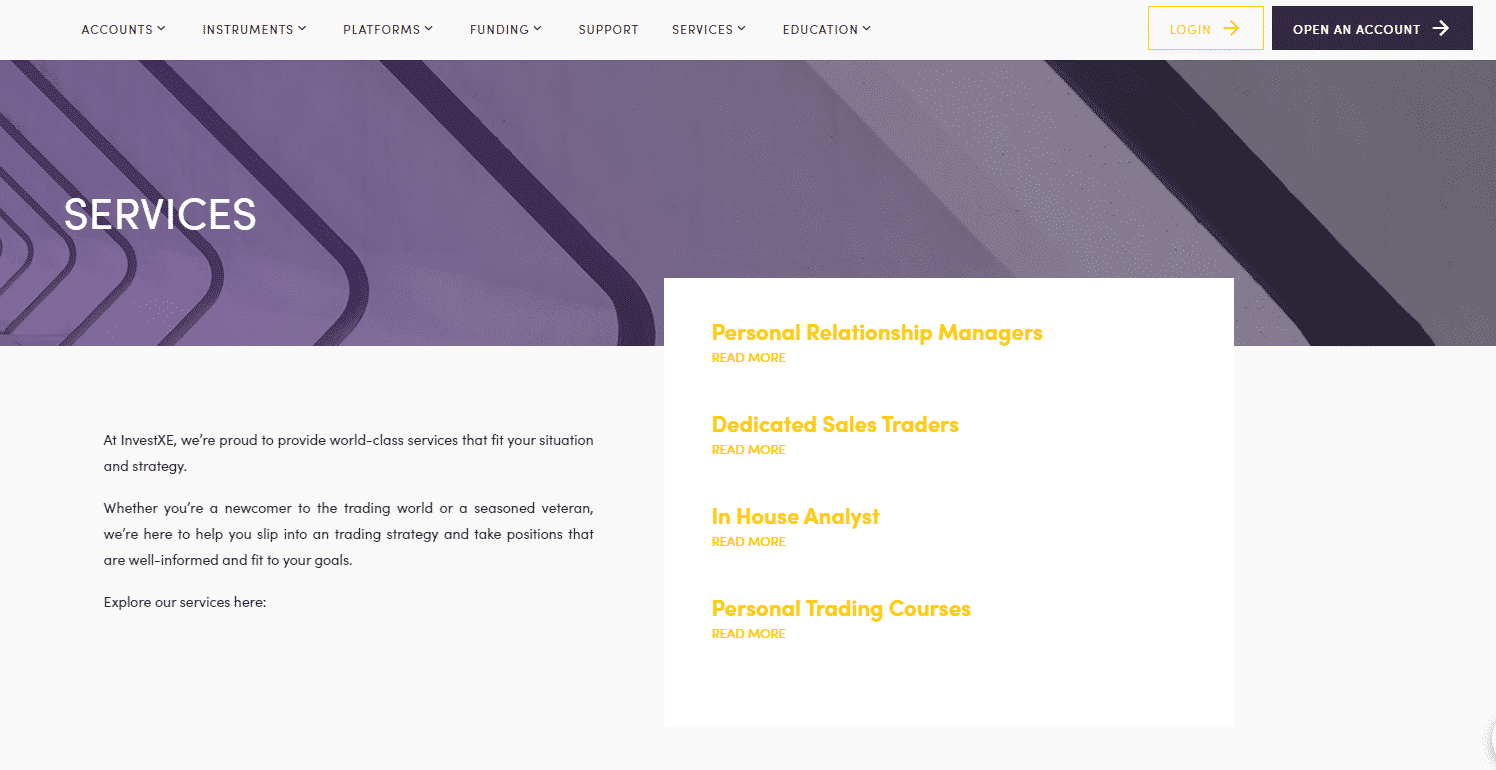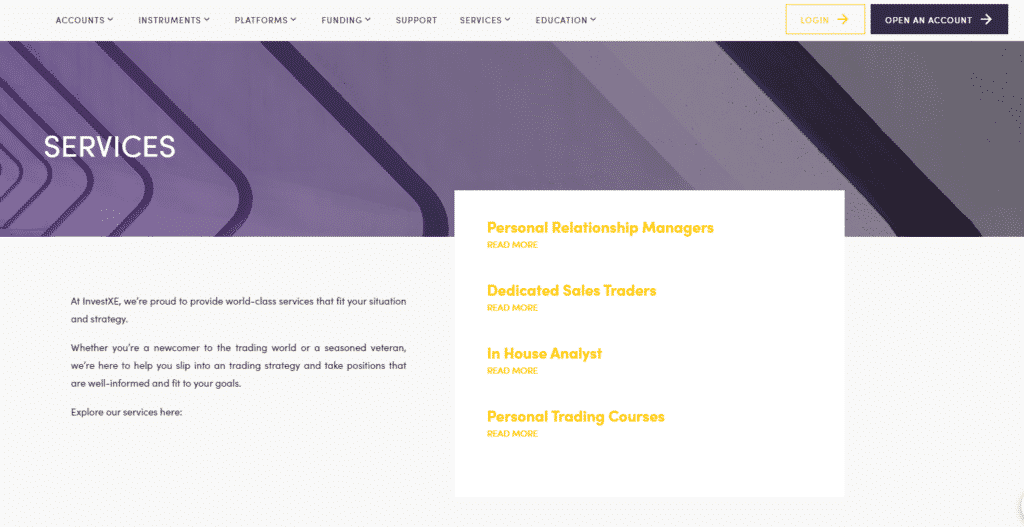 InvestXE offers a range of services besides trading and investing. With these services, InvestXE aims to assist its users in trading competently and profitably.
1. Dedicated Sales Traders: Trading comes with a lot of stress, and this is where a dedicated sales trader can help with the technicalities of trading, sales, admin, and more. They want to make trading lucrative for you. With their assistance available 24/7, you can make the most out of your trades.
2. Personal Relationship Managers: With InvestXE, even the most complicated aspects of trading can become simple. Personal Relationship Managers at InvestXE are there to help you. You can reach them anytime through chat, email, or phone. With their experience and expertise, they can help you get through the market volatility.
3. In-House Analysts: InvestXE's in-house analysts can offer you insights into the latest market trends and associated risks. They can help you stay away from the common traps that even experienced traders can fall into. Hence, you can rest assured to make maximum profits.
4. Personal Trading Courses: Do you want to learn highly-advanced and money-making trading strategies? Take up personal trading courses at InvestXE. Run by the market experts, these courses teach you professional styles and strategies of trading.
Support
For nearly every question or query, there is an InvestXE customer service representative to help you. They promise you 24/7 email, WhatsApp, Telegram, and phone support.
1. Email Support: One of the best ways to contact InvestXE's customer support is via email. The website of InvestXE has mentioned a different email address for different types of queries.
Support: cs@investxe.com
Trading Desk: trading desk@investxe.com
Compliance: compliance@investxe.com
Analyst Desk: analyst@investxe.com
2. Phone: If you want to speak directly to an InvestXE's customer care representative, then contacting them via phone is the best option. Find your country's contact number by entering your country code on their website. You can then immediately get in touch with them and resolve your issues.
3. Telegram Support: This secure, private cloud-based application is another way to get in touch with the customer care agents at InvestXE. No matter what problem you are facing or what questions you have, you can rest assured to get a quick answer via Telegram.
4. WhatsApp Support: WhatsApp is the leading messaging app around the world. InvestXE's representatives are fast to respond through WhatsApp regardless of the issue you have.
Bottom Line
If you are an active investor or trader who uses analyst research, high-quality educational materials, and various tools to trade, then InvestXE is the best platform for you. And. If you are new to trading and have little balance only to begin with, InvestXE can help you with leveraged services.
All of its trading platforms are simple-to-use and offer a smooth and efficient on-ramp to the trading experience. Its extensive education section is like a cherry on the cake. It can help you become an industry insider by learning different aspects of trading at your own pace. If you are looking for an all-round trading experience, InvestXE is second to none. It is a perform online trading platform for those who want to trade across an extensive range of instruments and markets to build a great portfolio.
FAQs
1. Why Should I Trade With InvestXE?
Ans. InvestXE has become one of the leading online trading platforms in a short time. Its different account types let traders of every level trade with the platform and earn lots of money. Moreover, when you choose InvestXE as your trading platform, you can trade while learning at the same time via its different courses, coaches, and more.
2. Is the InvestXE Platform Safe To Trade?
Ans. Yes, the InvestXE platform is safe to trade. It is trusted by many top traders around the world, and the InvestXE reviews on different websites prove this.
3. What Are The Topics Covered in the Educational Courses at InvestXE?
Ans. The topics covered in these courses include leveraged cryptos, market trends, commodity trading, trading strategies, and more.